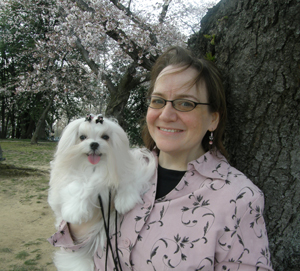 Carina is Mom to the Clan

I became a Maltese mom when I was 18 and got my precious Cloud. Four years later, I adopted my second Maltese, Clancy, from a local humane society. After she died, in her memory, I became a Maltese fostermom.
My work with Maltese Rescue led me to attend my first Maltese Specialty (Charleston 2001) where two of our dogs were able to participate in the Maltese Rescue parade. That was also my first dog show. There were some really gorgeous show babies there, but the ones that impressed me most were the ones in the obedience ring.

I came home and signed up for classes. Cloud and I earned his CD title when he was 12 years old. It was at the show where Cloud earned his title that I wandered over to the conformation ring and started to think that it would be fun to show dogs on both sides of the dog show since Maltese had "Beauty and Brains" too.

At the 2013 AMA National Specialty we were able to take home evidence of the success of this "Beauty and Brains" theory. I was awarded AMA Co-breeder of the year 2012 with my Mentor Sheila Riley based upon the success in the conformation ring of my first litter out of Ch. Cadie, and we also took home the Award for Rally Dog of the year based on Cadie's success in the Rally ring. We have followed that up with breeding three dogs who have successfully completed their Grand Championships and one of them like her mother has become our star in the Rally Ring. Our CherryB has been named top AMA Rally Maltese in 2013 and 2014.
Though the dogs are my primary passion, they are not my only one. I have a career that I love teaching English for international students at a community college. I also enjoy reading, with the dogs nearby as cuddle-buddies, and writing, with the dogs sleeping at my feet as I type away on a keyboard.