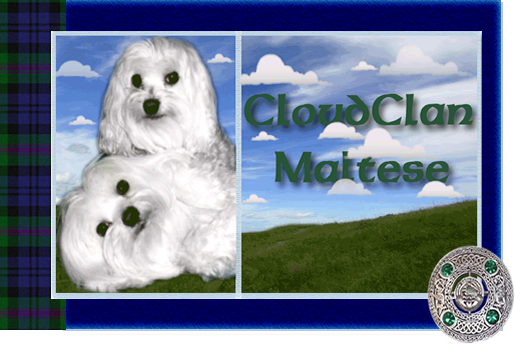 Our Name: CloudClan

Honors our first two very special Maltese: Cloud & Clancy

It all began with our first Maltese, Cloud, who was born June 7, 1991. I was blessed to meet him the day he was born.

On my summer break after my freshman year in college, I was hired by my neighbor to watch over a newborn Maltese litter.

That had to be the coolest summer job ever. At the time, I had no idea one of them would become mine. At the end of the summer, when his litter sisters had already gone to their new homes, my father decided we should adopt the little boy. My father also chose his name: Cloud.
It was another job just before I started graduate school that led me to my second maltese. My boss saw her at an event for a local humane society and sent me to get her. At the time, I could hardly believe any Maltese would need rescue. All we were told of her history was that she had been a mom used by a Back Yard Breeder. She was incredibly sweet and loved to smother us with kisses. We named her Clancy.

When we first got Cloud, he (and his family) were the only Maltese I had ever known. I tended to refer to all Maltese as Cloud-dogs. When Clancy came home she helped to complete our family. After she died, on Christmas Day 1999, we wanted to honor her memory. We became foster moms for Maltese Rescue. At that time, I began to refer to all the dogs who came to us as members of the Cloud Clan. All the Maltese who have shared our home owe their place in our hearts to these two very special Maltese.