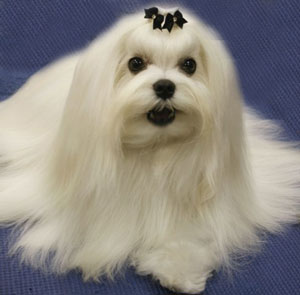 Ch. Jacob's Beau Cadeau des Anges RN, RL1
"Cadeau"
Cadeau's name is French for "Beautiful Gift from the Angels." He was named with this huge name because I went looking to add this beautiful boy to our family after losing my Cloud and Clouseau just a month apart. We found our beautiful boy with his breeder, Debbie Cleckley of Jacob Maltese. He truly is a gift. I got him because I wanted another special boy, but I also had great plans for him. I wanted to show him in obedience like I had with Cloud, and I wanted to try showing in the conformation ring as well. I wanted to learn how to groom and show a maltese.

I am indebted to Debbie for sharing the results of her hard work with me. Cadeau is out of Debbie's first home-bred Champion, Ch. Jacob's Hope. His beautiful mom is Ch. Jacob's Star of Bethlehem. He earned his Championship title on May 17, 2009, taking back to back best of breed wins at the Mattaponi Kennel Club show in Manassas Virgina.

Since finishing his championship he has proven himself as a sire of merit. On his first breeding to Jacob's Chase N the Dream he produced beautiful results. Their daughter Ch. Jacob's Victory Heaven Cent earned back to back majors in beautiful competition as an 8 month old puppy and went on to finish her championship by going Best of Winners at the 2011 Maltese National Specialty, shown, loved and conditioned by her owner Deb Ray of GraceMaltese. He sired my first home bred litter with Ch. MaltAngel Cascading Starlight. The beautiful daughters from this breeding also both completed their championships and one, CherryB, went on for her Grand Championship title. His son Orion from a breeding to our Ch. Cacia also recently finished his Grand Championship, owned and loved by Ashley and Cindy King of Ecstacy Maltese. Christmas 2013, he sired another daughter with Cadie who has gone to live and to show with his breeder Debbie Cleckley. We look forward to her completing her own championship which would give Cadeau his ROM title.