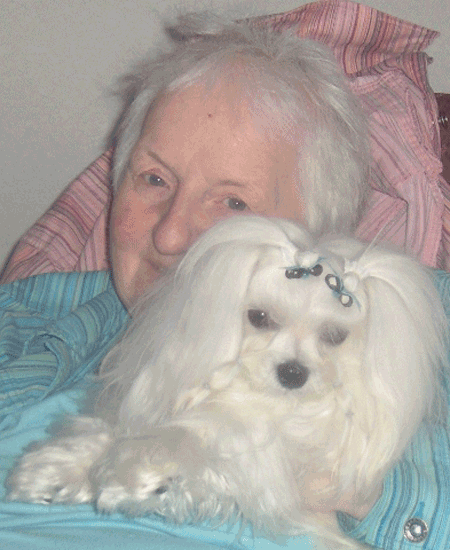 Andrea is Grandmom to the Clan
Andrea, my mom, has loved animals since she was a young girl. She developed a fondness for dogs, cats and birds in her childhood. She often tells stories of the pets she had before I was born. These stories include her pet Dalmatian called "Music" who could dance, siamese-x cat called "HoneyBunny" who adopted orphaned rabbits, parakeet called "NoNo" who liked to scold people. Growing up, I was aware that all the animals flocked to my mother.


She was actually the first in our family to discover the Maltese breed. Being very social and wanting to meet her new neighbors after a long distance move, she ran outside when she saw a couple walking a beautiful pair of white dogs. This introduction led brought us our Cloud.
It was around the time that we lost my father that we became involved in rescue. Working as a foster-grandma helped my mother to heal from that loss. She once had a career as a nurse. She used those talents and her big heart to help heal the babies who came to us as they waited for their forever home. Mom would be a foster-failure every time. She wants to keep them all.
Mom tends to prefer the ragamuffins. She turns her nose up at the perfection required of a show dog. Despite this, she has fallen head over heels for our show boy, Cadeau. She loves going to shows and watching him capture the attention of spectators. She also loves our work with Pet Therapy. She used to visit the nursing homes as a volunteer every week when I was growing up. She can't think of a better way to visit than to bring along a lovely furkid to share.