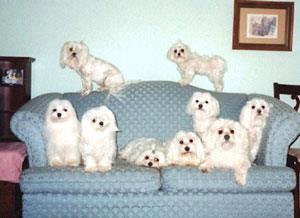 Maltese Rescue
We first became aware of Maltese rescue after adopting our precious Clancy from the Humane society. We were inspired by the volunteers who helped her find her forever home with us. After she died, we wanted to find a way to honor her precious memory. We filled out a foster application. Over the years since that decision, we have shared the company of more than 25 dogs while they searched for their forever homes. We have also been involved with transports, and home visits.

We are grateful to the rescue volunteers who helped bring Clancy and Clouseau into our lives, and we are also grateful that our decision to foster led us to adopt two of our own former fosters: Calypso and Cameo.
On occasion, we still foster. Here in Maryland we have found a wonderful group of volunteers at United Maltese Rescue.