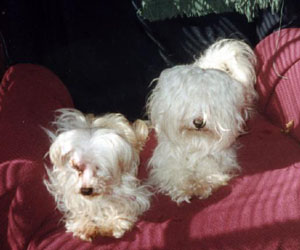 Charlie and Chaplin
So often our foster dogs seem to come in pairs, but rarely have they come in such peril as Charlie and Chaplin. When we learned about them, they were in a kill shelter on death row.

They had been found wandering the city streets together and we were notified about their need for help shortly right after we returned from participating in the American Maltese Association Rescue Parade in 2001. When we went to pick them up, they were not in good condition. Both boys were matted and dirty and in desperate need of cleaning up. We soon discovered that it was not just dirt and hair that was covering up Chaplin's eye. It was caked from infection.

Charlie seemed to know his smaller friend was hurt, and hovered over him trying to protect and care for him.
We brought Chaplin to our own vet and a canine eye specialist; in the end, we were unable to save his eye. It had to be removed, once his infection cleared up Chaplin became a much more lively and enthusiastic dog. He was no longer in need of Charlie's hovering attention, though he had trouble convincing Charlie of that.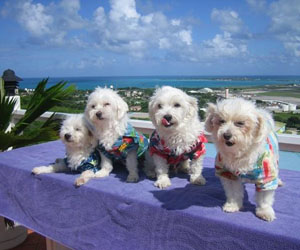 It took a couple of months to locate the perfect family for these two special boys, but one day that perfect match did come along. A wonderful couple who already had a pair of sweet Maltese girls saw their story and felt that adding the boys would complete their family. After the interviews and home visits were done, I was so convinced that this family was an ideal home I almost asked them to adopt me.
When I brought the boys to their new home they were greeted with a wonderful backyard to run and play with a newly constructed fence that would keep them safe. Over the years we have recieved updates about their new life. A couple of years ago we learned the boys had moved with their mom and dad and Maltese sisters to live in a resort in Antigua. They are living the life.