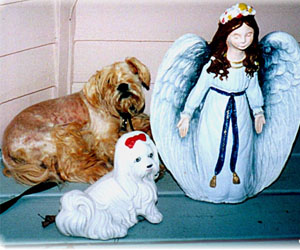 Calypso's Story
Calypso "Caly" was a survivor through a life of 16 years. Her final struggles with age and illness were more painful to watch because she had already suffered so much in life.

Much of her struggle happened before I learned about her in 2000. I was a new fostermom. After losing our precious Clancy (who herself had been a humane society rescue) on Christmas Day 1999, I wanted to foster in part because I hoped to heal my own heart, and perhaps in doing so I might be able to heal the broken heart of dogs who needed the love I wanted to share.

Caly was nearing 7 years old when a concerned "friend of a friend" convinced her owner to finally turn her over to rescue. By that time she had already become a very traumatized dog. She came from a Back Yard Breeder that was closed down not long after her birth. The family that adopted neglected her terribly. At the age of 1.5, she was shot with a high-powered BB gun point blank into her abdomen. This happened because her owners had left her to fend for herself alone in the yard while they were not at home. They did bring her to the vet and doctors were able to save her.

She wouldn't see a vet again until she was almost 6 years old. At the time, she had such a raging eye infection that she actually scratched her own eye out. This second vet visit was almost too expensive for her family and they considered having her put down. But they did save her. In the mean time, they had children. When they called rescue to surrender her they had 4 year old triplet boys and a 2 year old boy. On the surrender forms they said Caly was "BAD" with children. This was one of the reasons that she was cast outside to live under the deck. When she surrendered her, the woman tried to shave her matts down before she gave her to us. But Caly was too terrified to let her get much done other than the body. From living in the Georgia clay, she was copper in color. Her rear end was caked and raw from the dried up feces. I was told that she would clean up white.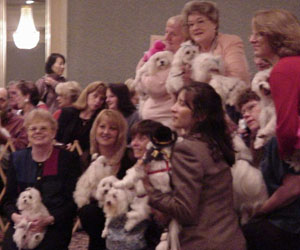 We took her straight to our vet. They were as horrified as we were. When put down to walk she seemed to have something wrong with her legs as she did not walk upright, but crawled like a crab. But eventually she did walk. In fact, about a year later she participated in the rescue parade at the American Maltese Association National Specialty in South Carolina. She walked the ring that the show dogs graced. She made everyone cry.


I decided to keep her when I saw her survival instinct and how strong it was. I was not prepared for how damaged her heart truly was. I was sure that I could make her completely healed and well again. I wasn't able to do that. She never acted like a normal maltese. She didn't do the things the rest of my dogs do, like follow me around or beg to be held and snuggled. She would bite us when we tried to sleep with her. She would often flail when we tried to hold her. She would bite us if we tried to groom her. She maintained her fear aggression.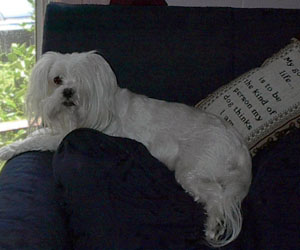 I often wondered what she would have been like without the trauma that turned her so fearful. For sure, her true spirit was one of determination. And there were some things that did give her joy: retrieving her ugly toy, spending time in the sun, and Popcorn. Oh my did that girl love popcorn. She would work for popcorn. Sit, down, spin-anything you asked. We know she did love us as much as she was able. And we loved her.
Caly, in this picture, is sitting next to a pillow that says "My Goal in Life... is to be the kind of person my dog thinks I am." In honor of her struggle, I hope all who hear her story remember the precious nature of the trust these creatures place in us and that we may always do our best to deserve it.